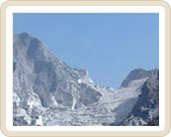 Raffaello Bertolini Company
 ... begins in 1966 in Carrara, world's city of White Marble, as family-run business operatives in the sector of natural stones fabrication and trade.

Today the over forty years long solid experience, reputation and the love for our personal work let us provide with professional care and competitiveness allmost of all kind of manufacture for any materials to satisfy the requirements of the small private building and the major public or private works.
Each project commit to us is managed with the top care to deserve the confered faith.
Experience, technologies and primarly the contribution of human resources by a close and skilled team ensure satisfying results.
Services
Experience and knowledege are closely bound to manage in the better way every single project.
Our close, skilled and by the great passion joined team is the guarantee to offer the care in each single detail to ensure high levels quality... more.
Activities
Step by step we manage directly the project from the estimating to the executive phase, providing manifold technical and specialized services through our team...